When I was searching for illustrations for my piece on ancient Sembl boards, I was under the impression that Rembrandt had made an illustration of some old sage having a vision of a slightly unusual form of the Sephirotic Tree of Jewish Kabbalah.
I wasn't able to find it: what I did find, however, was a different but similar Rembrandt etching, showing a wise old man having a diagrammatic vision – but not of the variant Sephirotic Tree that I recalled seeing…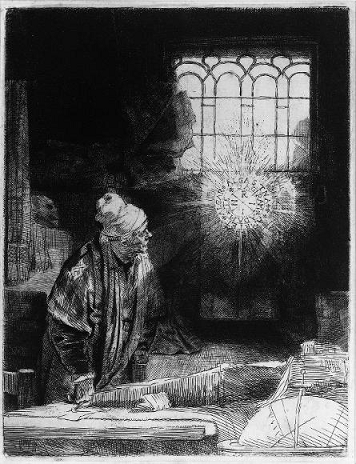 And although I could also have used Athanasius Kircher's highly wrought version of the Tree…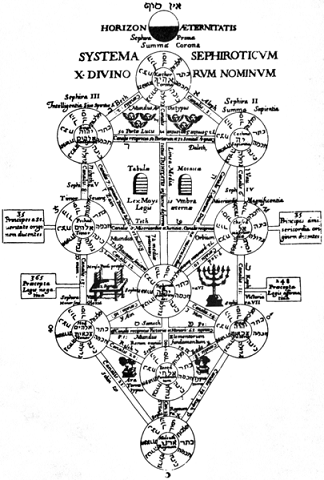 in the end I opted for a simpler diagram, which I juxtaposed to a Christian diagram of the Trinity: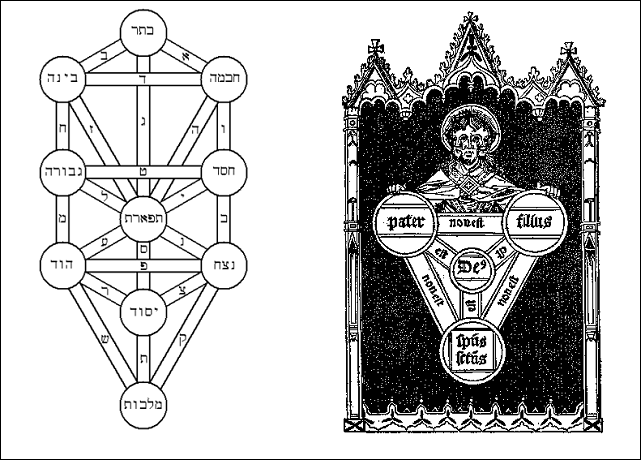 *****
Today, however, while browsing for something completely different – a
map of Washington DC
if you must know – I ran across the image I'd been thinking of – it's on the title page of
Paulus Ricius
' Latin translation,
Portae Lucis
, of the Hebrew Kabbalistic text
Shaarei Orah
by
Abraham Joseph Gikatilla
, which concerns the
Tetragrammaton
or four-lettered Name of God: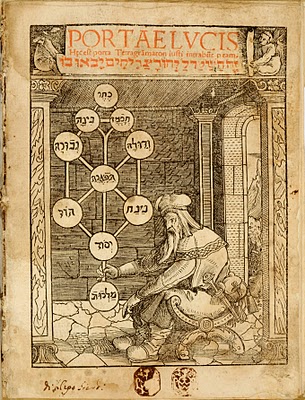 Okay, I went back to check on the Rembrandt, and found it on the Rijksmuseum site dated "c. 1652" with the comment:
Faust?

What the etching exactly represents is unclear. In the early eighteenth century, the print earned the title 'Dr Faustus' and in 1791 Goethe used it on the title page for his publication of Faust. However, it is just as possible that this has nothing at all to do with Faust, but is a portrait of a scholar. It may be the 'practising alchemist' to which references were made in the seventeenth century. The posture of this 'Faust' has much in common with that of a scholar in an earlier print of Rembrandt's. Rembrandt did not portray alchemists in the traditional way – that is, with fire. The enigmatic text in the radiating light could be a magic spell.
…..
So here's the business my unconscious seems to have had in mind during this whole process of searching in Rembrandt's works for an image that resembled one of his etchings from around 1652.
I was conflating the Rembrandt with the image found on the title page of a book printed in Augsburg in 1516 — and that's how the creative leap happens, in this case from a 1516 image in Augsburg to a 1652 image in Amsterdam.
At the point that I realize this, there's an aha! in me, a Sembl move I can make linking the Portae Lucis title page to Rembrandt's Faust etching – and a vista opening in the realm of art history, in which one could (and perhaps someone should) research the availability of the Ricius translation of Shaarei Orah to Rembrandt himself, and in the rabbinic libraries of his time in Amsterdam.
Because – and this is not art history but art historical hypothesis – the Ricius title page may well be a significant source of Rembrandt's etching, of which the Rijksmuseum itself says:
What the etching exactly represents is unclear.
…..
I have no idea how original an idea this is, and others may well have considered the possibility and researched the matter before me.
I do know that Rembrandt's Jewish connections have been examined in detail, and would love to have seen the 'Jewish' Rembrandt exhibit at the Joods Historisch Museum.
But there you have it.  The "unconscious" mind finds resemblances and in effect makes leaps, which the "conscious" mind then stumbles across – and on occasion those leaps deserve to be followed up, researched, confirmed or refuted.
In this case, I'm hoping my friend Michael Robinson will come to my rescue with some informed commentary – this is in his field, not mine.
…..
In the meantime, the central rosette or mandala in the Rembrandt prominently features the letters INRI for Iesus Nazarenus Rex Iudaeorum (Jesus of Nazareth, King of the Jews), which was the title Pilate ordered nailed to the cross above Christ's head in Hebrew, Latin and Greek (John 19.20).  So even if Rembrandt had seen the Ricius Kabbalistic Tree diagram in the collection of one of his Jewish neighbors and been influenced by it, his own version is explicitly Christian…
And INRI, if you think about it, it a sort of Christian variant on the Tetragrammaton: a four-lettered title for Christ.
But that would be another possible Sembl move, for another day.